Meet Melissa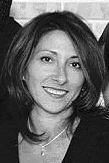 Melissa Gonzalez-Strick has been providing clinical services for over 20 years offering therapy for children, adults and families in a variety of settings. She has worked as program coordinator and clinical supervisor within the child welfare and domestic violence fields. Melissa has also worked within the hospital setting in various capacities including providing normalization activities to hospitalized children ages birth to seventeen, conducting emergency evaluations for psychiatric and chemically dependent patients and facilitating behavior modification classes and groups for weight management and binge eating disorder.
In addition to her clinical work, Melissa has been a public speaker and educator on domestic violence, the effects of trauma on children and parenting issues. Melissa developed a school-based dating violence prevention curriculum for a domestic violence agency in 1990 which is still implemented in schools throughout the Southern Suburbs.
Melissa earned a Bachelor's Degree in Psychology and Human Services and a Master's Degree in Addictions. She became a Licensed Clinical Professional Counselor (LCPC) in 1995, is a Certified Sports Counselor (CSC), an Illinois Certified Domestic Violence Professional (ICDVP) and an Early Intervention Specialist.

Office locations
Melissa's main office is conveniently located in Flossmoor, Illinois- just 4 miles from I-57 and approximately 6 miles from 80/294.

Satellite offices are located in South Holland right off of I-94 and in Matteson, minutes from I-57.

Office Hours
Hours are by appointment only. Most sessions are held at the Flossmoor location. Day and evening hours are available. Limited hours are offered in Matteson and South Holland. Melissa's main office is conveniently located in Flossmoor, Illinois- just 4 miles from I-57 and approximately 6 miles from 80/294.

Appointments/Cancellations
Appointments are usually scheduled for 50 minutes. Clients are generally seen weekly. Sessions can be conducted more/less frequently as agreed upon between client and therapist. You may discontinue treatment at any time, however it is greatly appreciated if this is discussed with me. In the event of an emergency, I may be reached at (708) 334-9005. If unable to reach me you are encouraged to contact your primary care physician or psychiatrist or go to your nearest emergency room.

You will be billed for sessions that you cancel with less than 24 hours notice. You may leave messages 24 hours a day. You will be billed $50.00 – not just a co-payment. Insurance companies do not reimburse for failed appointments

Fees and Payments
Fee for the initial visit is $125.00. Each 45-50 minute session thereafter is $100.00. Any exceptions must be discussed and you and I must agree to a modification of the fee schedule. I reserve the right to change my fees. In such an event, the increased fee schedule would apply only to clients seeking services after such change is made.

Payment is due at the time of the session unless other arrangements have been made. My office will file your insurance claim; however, you are responsible for deductibles, co-insurance, and co-payments. It is your responsibility to familiarize yourself with your insurance benefits.
Confidentiality
Issues discussed in therapy are important and are generally legally protected as both confidential and "privileged." However, there are limits to the privilege of confidentiality. During your initial visit you will receive the office Policies and Practices to Protect Your Health Information which will fully explain your confidentiality rights.

Information shared with Melissa through On-line services (e-mail) is for the purpose of accessing Coaching services only and will not be shared with a third party not associated with Melissa or stricksupportservices.com. This website does not run cookies to collect and store your information. However, it is important to be aware that nobody can guarantee the complete safety of information exchanged through the internet. The use of this site and of On-line services is done so entirely at the client's own risk. Persons using this website and/or On-line services acknowledge that any transmissions of confidential information to Melissa or stricksupportservices.com via electronic mail are at users' own risk.
Legal Disclaimer
While using this site and by accessing On-line services, your system may become vulnerable to different types of viruses, pop-up ads or hackers. Melissa strongly recommends that the user utilize reliable antivirus software and firewall utilities on your personal computer.

Throughout this website the user will find links to other web sites. These sites contain information which is maintained by organizations independent of Melissa or stricksupportservices.com. Melissa does not endorse, certify or control these websites or any product or service referenced within those independent websites.

Melissa reserves the right to change or modify the contents of this website at any time. Users of this website acknowledge that by visiting this website or using On-line services agrees to the terms expressed in all sections of this website.